Our mission is to make this a perfect day for you. Gin Creek will be the most unique and beautiful experience you have ever been a part of in your entire life.

The DeMott Brothers, Richie and Doug, began what is known as Gin Creek in 1988.  Richie and Doug were not only brothers and business partners, but dearest and closest friends.  Their daddy, Max DeMott, passed away when Richie was eighteen years old and Doug was only eight years old at the time, so Richie felt as though Doug was like a son to him.
Richie was the visionary of Gin Creek and Doug was the builder. They were a great team together and worked side-by-side daily until Richie's untimely passing away on June 12, 2015.  Doug continues the day-to-day operations of Gin Creek Plantation and Gin Creek Vineyards & Winery.
Gin Creek is a wedding venue in the heart of South Georgia. Gin Creek is a premier wedding destination and is a privately gated property located fifteen (15) minutes west of Moultrie, Georgia. DeMott Lake and RoseMott Vineyards sits on 100 acres with a 20-acre lake on our Lakeside, which is a perfect  wedding destination or retreat and great for fishing, recreation or just relaxing and has eight fully furnished cabins/cottages overlooking DeMott Lake. The enclosed Galleria is a beautiful place for your reception or event, complete with a two-level deck for additional entertaining.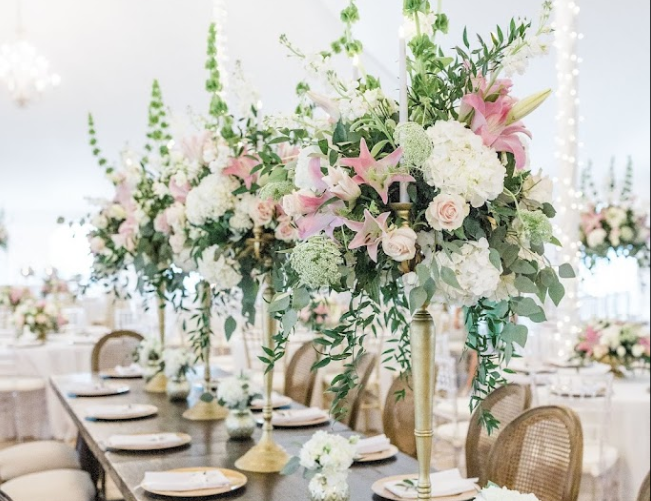 RoseMott Vineyards includes 50 acres of rolling hills of vineyards, with a Tuscan Pergola and Gazebo overlooking the water to complete your wedding dreams. Our 60×120, six-peak tent is large enough for just about any size wedding reception or event and has a full size commercial kitchen. The property also has a cottage and a 3200 sq.ft. home to accommodate up to 17 people.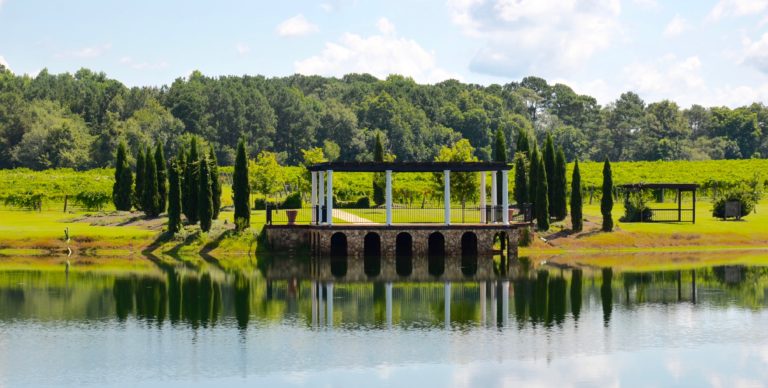 Our mission is to make this a perfect day for you. Gin Creek will be the most unique and beautiful experience you have ever been a part of in your entire life.
Everything you could want is here; from the lush green grass surrounding the gorgeous lake, to the beautiful Gazebo and Pergola, to the Cabins and Cottages and the Galleria Reception Hall, we have it all!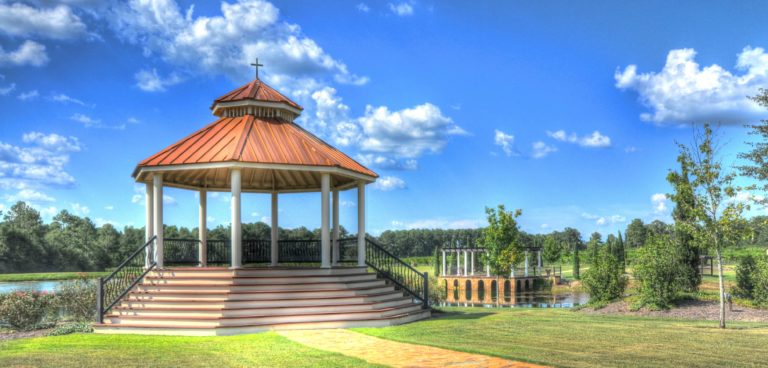 The inspiration of Gin Creek began in 1967 with our daddy, Max DeMott. His dream of building DeMott Lake was his goal. From that dream four decades ago, sprang visions of grandeur and hope. After his death in 1969, the landscape patiently waited for the next thirty years for what has now become Gin Creek. In 1999, sitting on the corner of DeMott Lake, a vision was shared of someday this being a place of serenity. A place where dreams would become reality and happiness would abound. It was our time to get to work with the dream our daddy started. I've always said, "God landscaped this place, we just maintain it." The name "Gin Creek" came from a combination of two thoughts. The creek that ran through this property, combined with Richie's former profession, cotton ginning. Thus, the name of "Gin Creek" was born. The phrase, "Two Men and a Shovel" is appropriate for the personal touch that Gin Creek shares. From the winding road to the Presley Log Cabin, Vineyards, Winery, and all stops in between, Gin Creek is truly "An Unforgettable Southern Experience." As one person stated, "It doesn't matter where you stand, every view is inspiring."
We hope your time with us is memorable.
Doug DeMott

Gin Creek is located in rural southwestern Georgia. We are in Colquitt County about 15 minutes west of Moultrie. There are airports in two nearby cities: Albany, Georgia (40 minutes south of Albany) and Valdosta, Georgia (50 minutes north of Valdosta). We are about 3 and 1/2 hours from Atlanta, Georgia. We are 1 hour from Tallahassee, Florida. We are located right off Georgia Highway #37 West on DeMott Road in the small community of Bay.

We can't wait to celebrate your special day.

Hours of Operation for Gin Creek ~  9:00 a.m. – 5:00 p.m. Appointment only. Please email with any questions regarding weddings and pricing. We are not always in the office. Email is the best way of contact.
We would appreciate the opportunity to give you a tour of our venues. Please feel free to complete the contact form below, and we will contact you within 24 hours of your submission.
Tours by appointment only. Sunday-Thursday.
Office: 229-941-2989 (Please leave a message) Our phone lines are currently down until February 2nd. Please out to the numbers below.
Meaghan: 229-873-6245 (Please text)
Doug: 229-873-3005
Address
Gin Creek
251 DeMott Road
Hartsfield, GA 31756
Email
info@gincreek.com