Everything you could want is here; from the lush green grass surrounding the gorgeous lake, to the beautiful Gazebo and Pergola, to the Cabins and Cottages and the Galleria Reception Hall, we have it all!
DeMott Lake sits on fifty acres with a 20-acre lake, which is a perfect wedding destination or retreat and great for fishing, recreation or just relaxing and has seven fully furnished cabins/cottages overlooking the lake.
For your wedding ceremony, you have the option of choosing the traditional Southern Style Gazebo or the natural setting of the Pergola that juts softly onto the lake.
After the ceremony, enjoy an elegant reception in the 2500 sq. ft. enclosed Galleria complete with a two-level deck and string lighting for additional entertaining.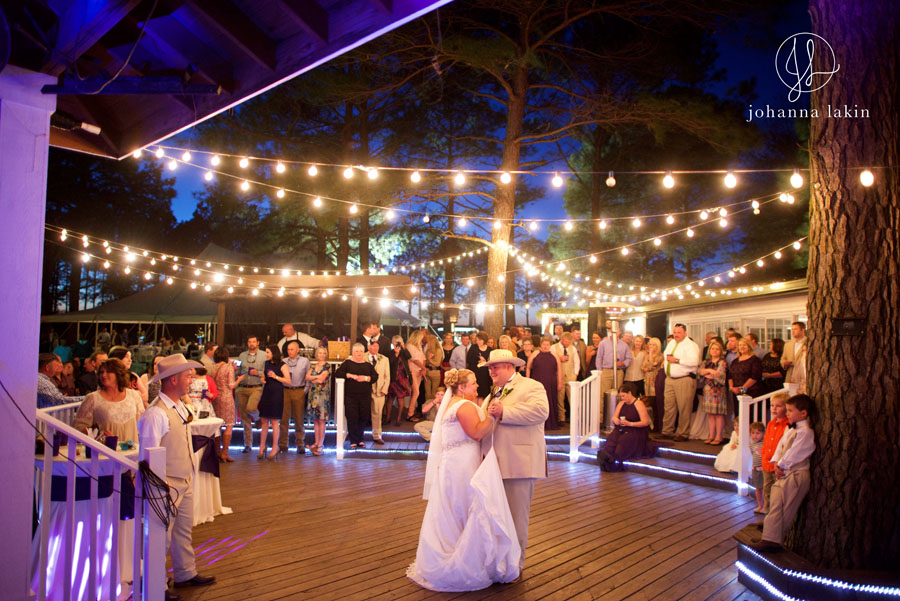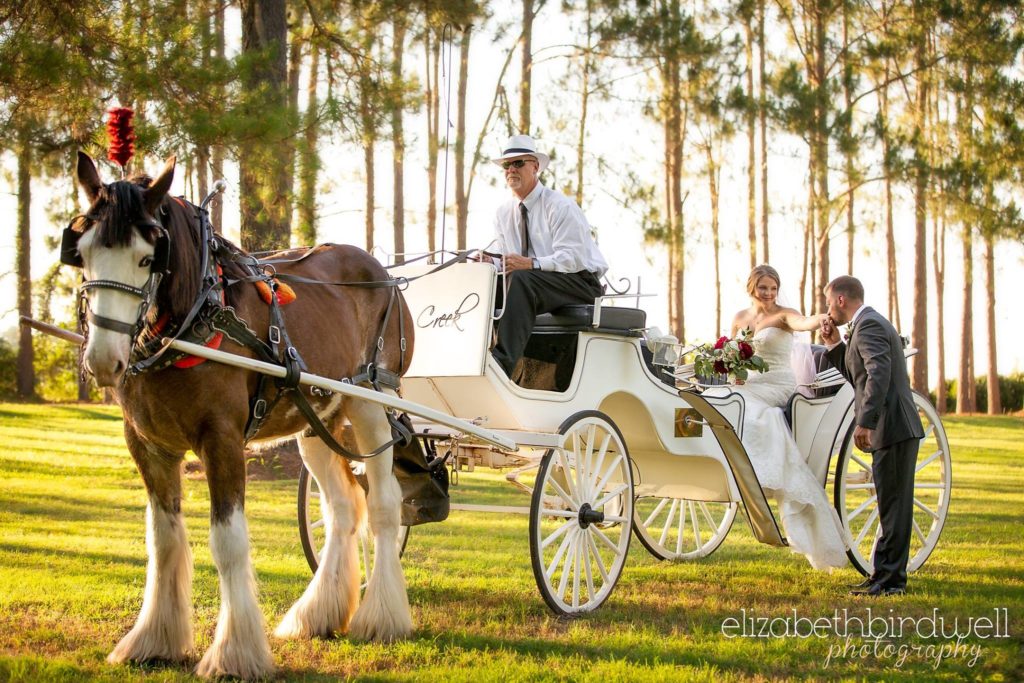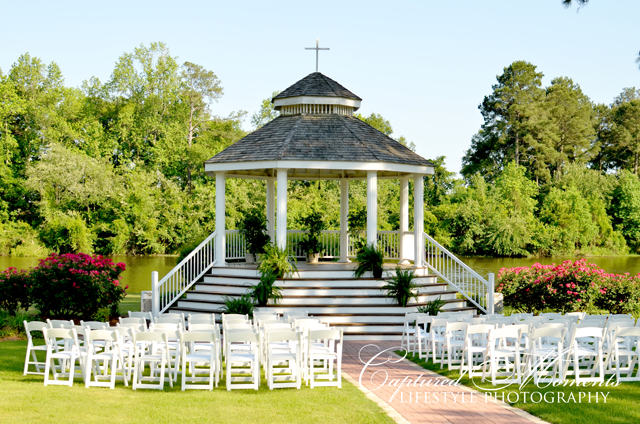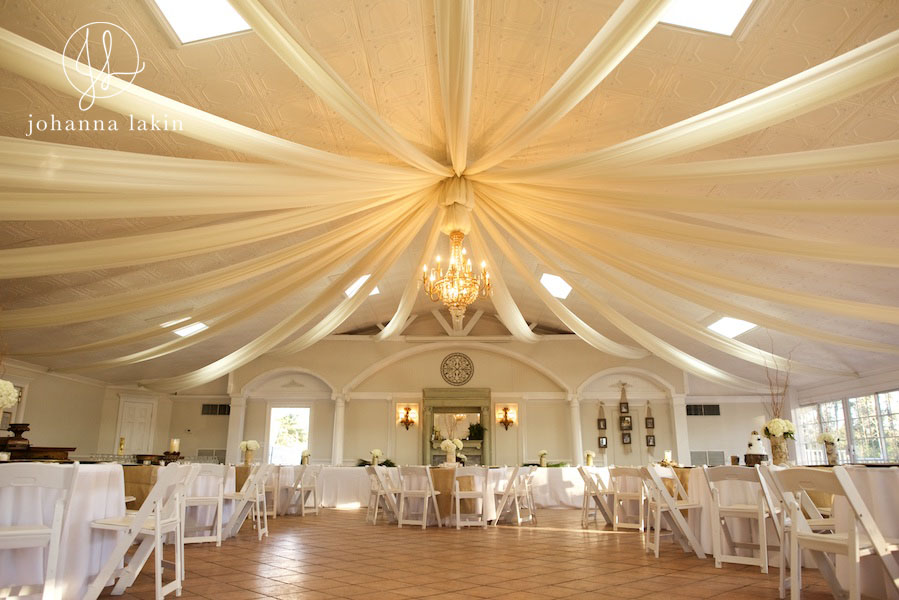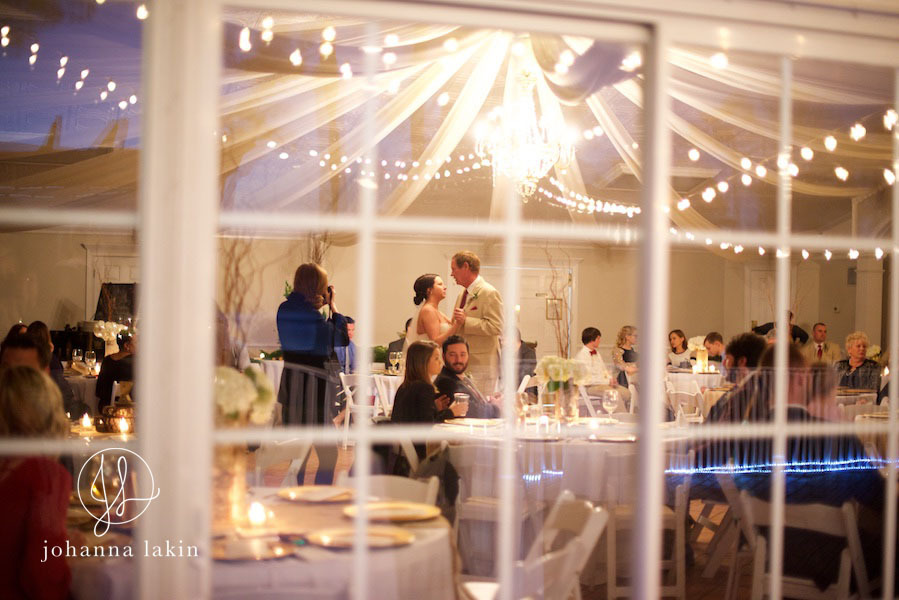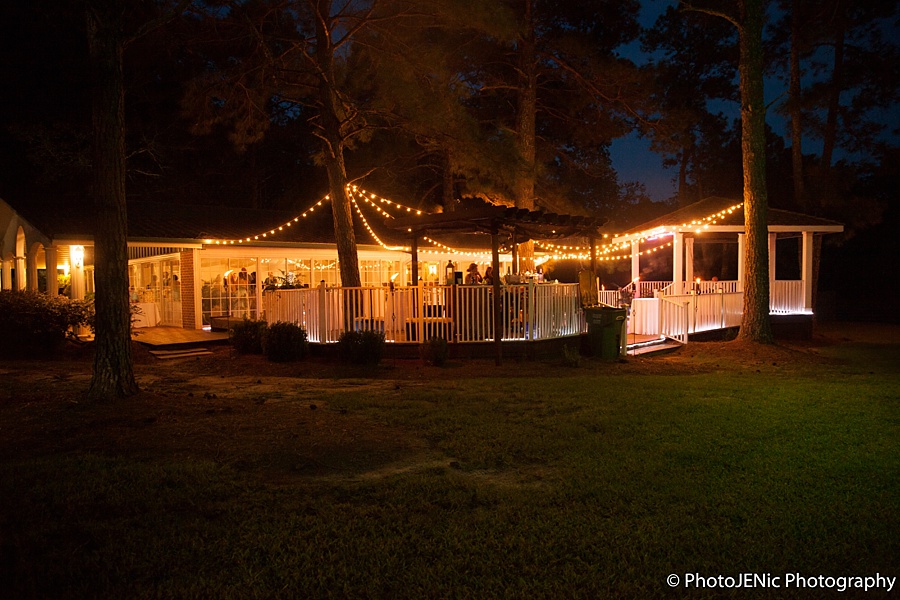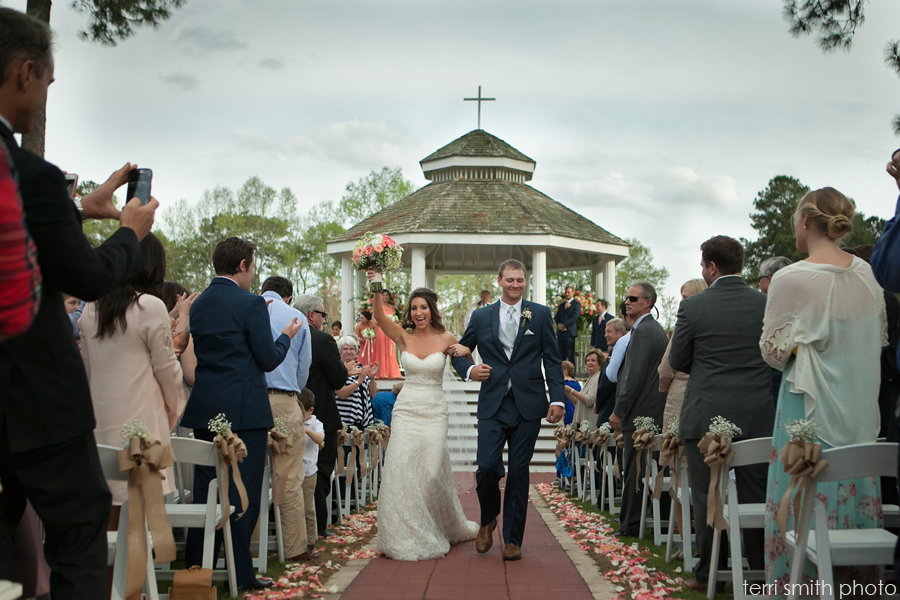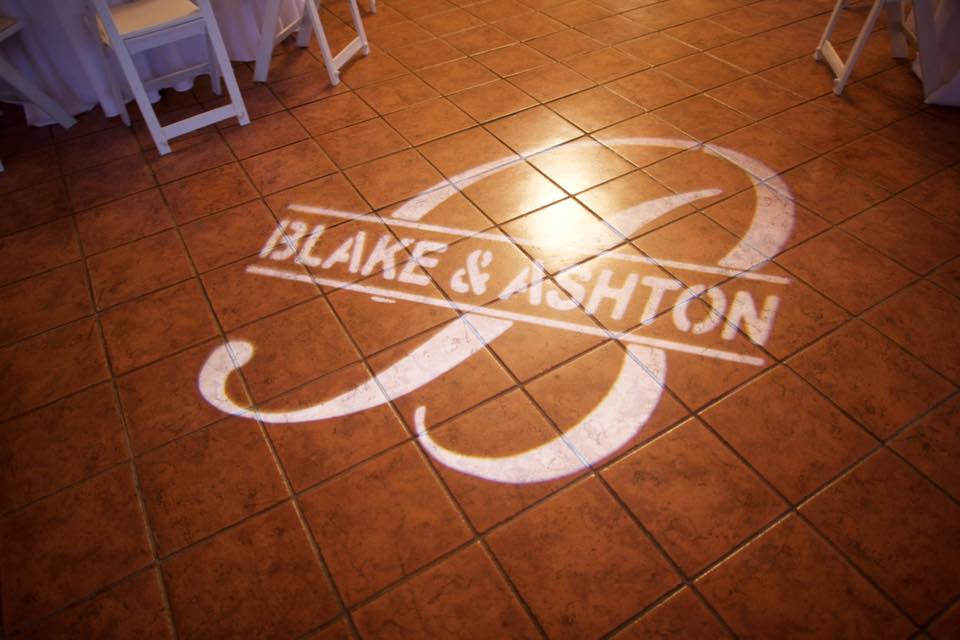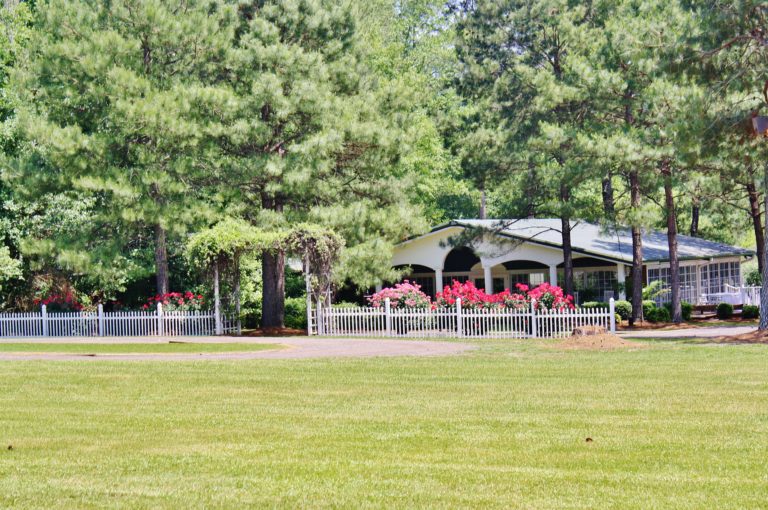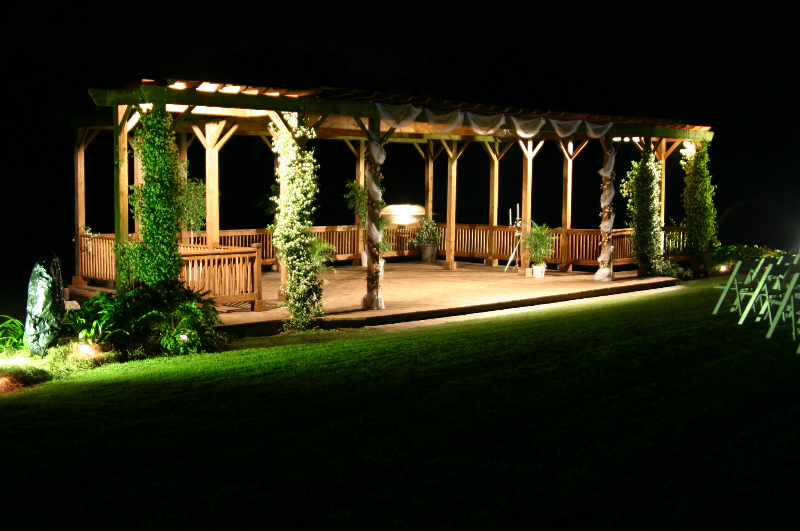 RoseMott Vineyards, named after their mother, Dorothy Rose DeMott Turner, features 53 acres with hundreds of rows of grapevines. Sitting on a five-acre pond is a stone arched Tuscan Pergola and our Grand Gazebo with a metallic copper top. Following the ceremony, wine and dine your guests in our 7200 sq. ft. triple twin-peak tent atop the vineyards.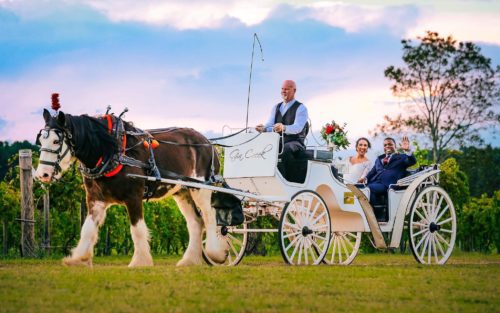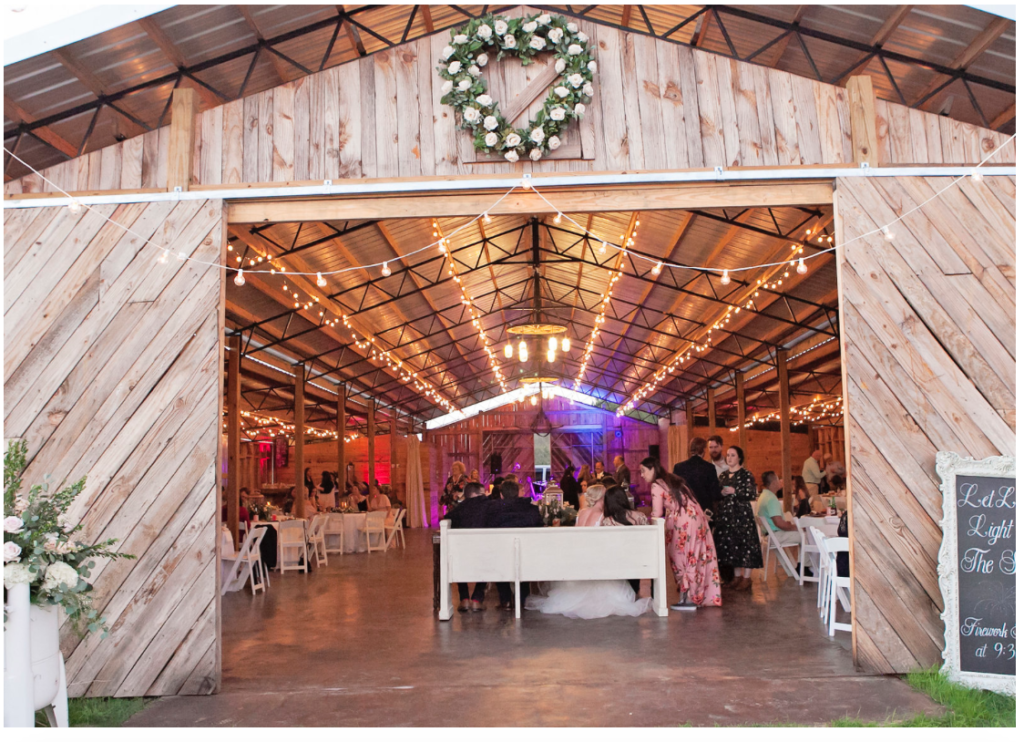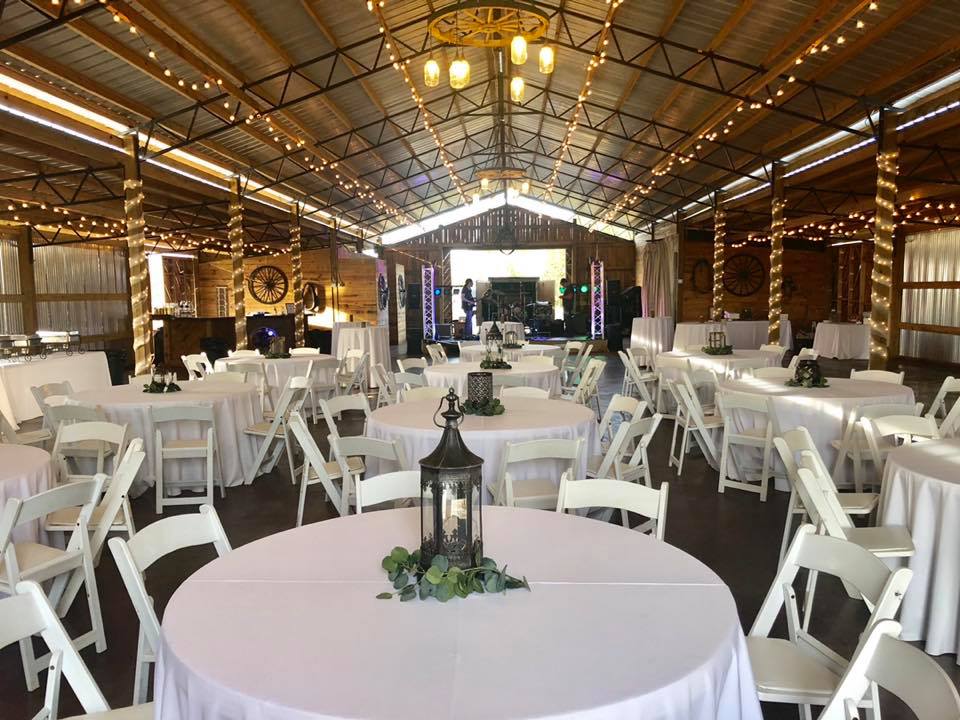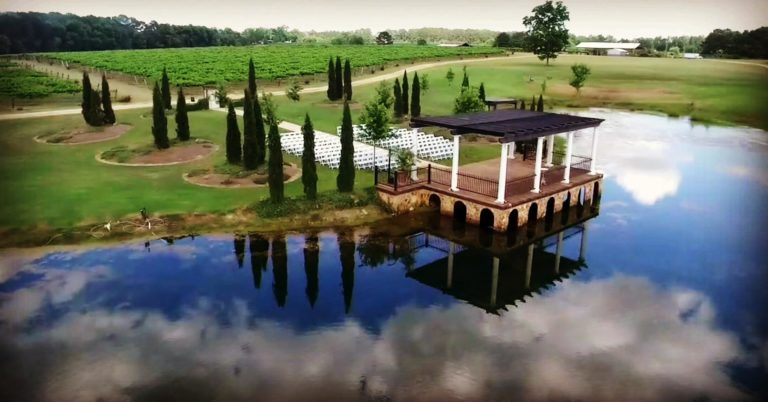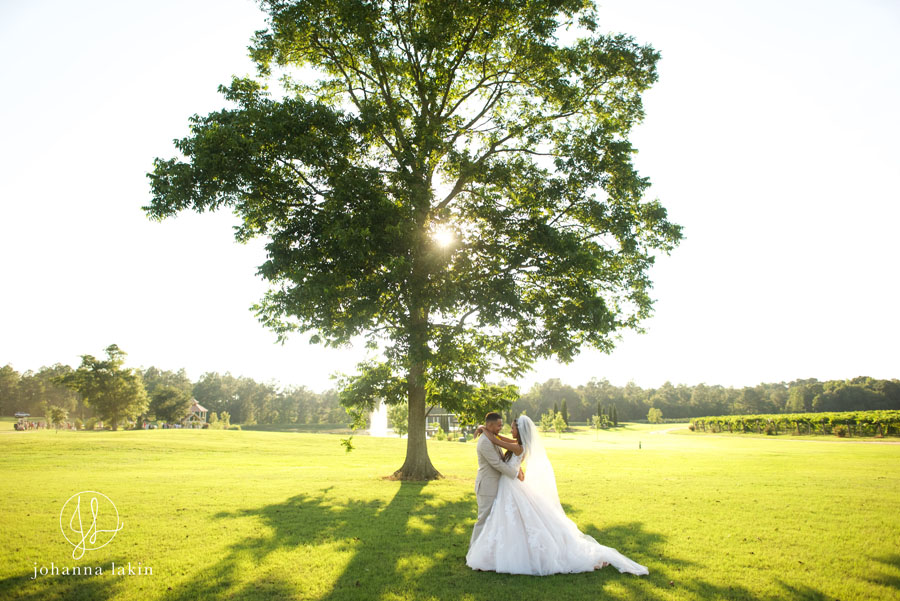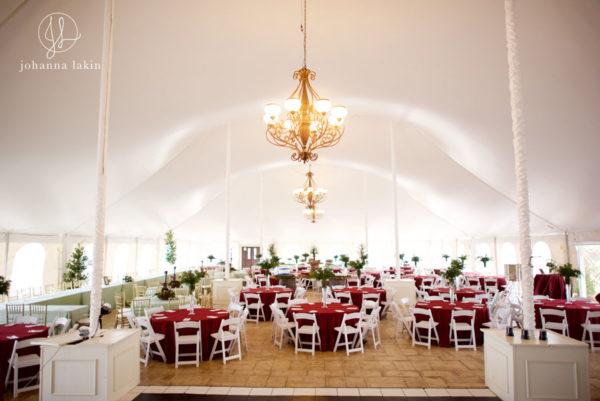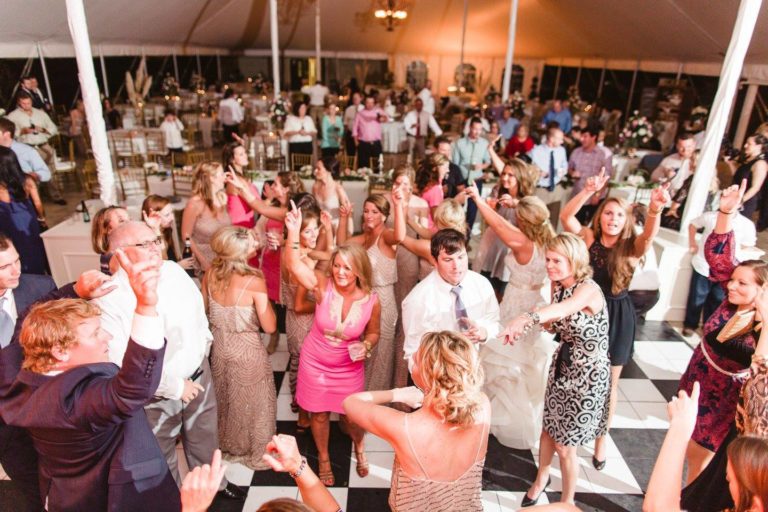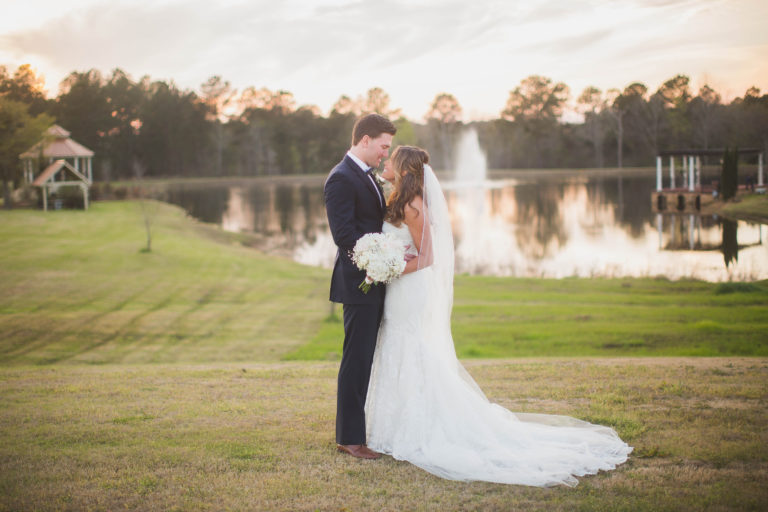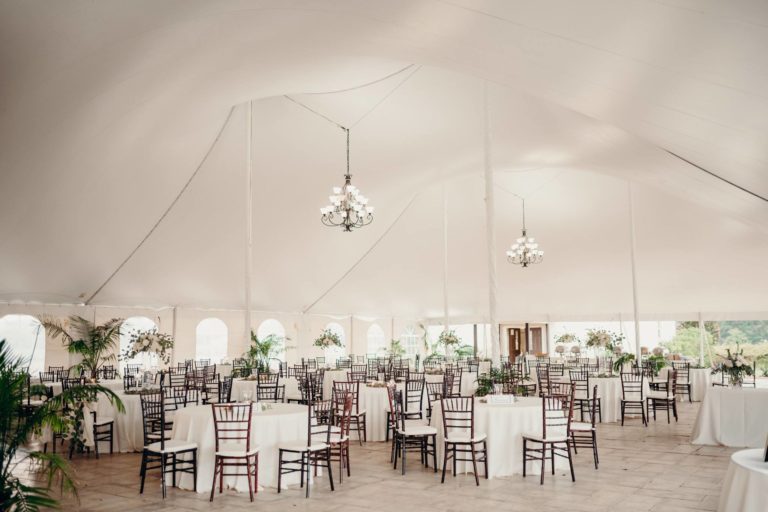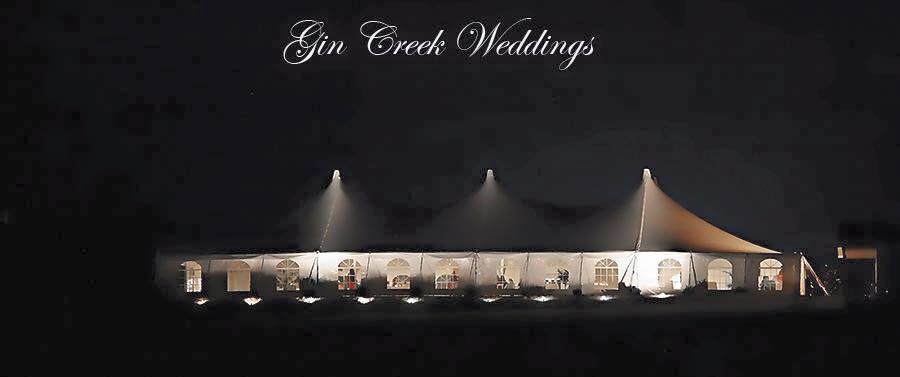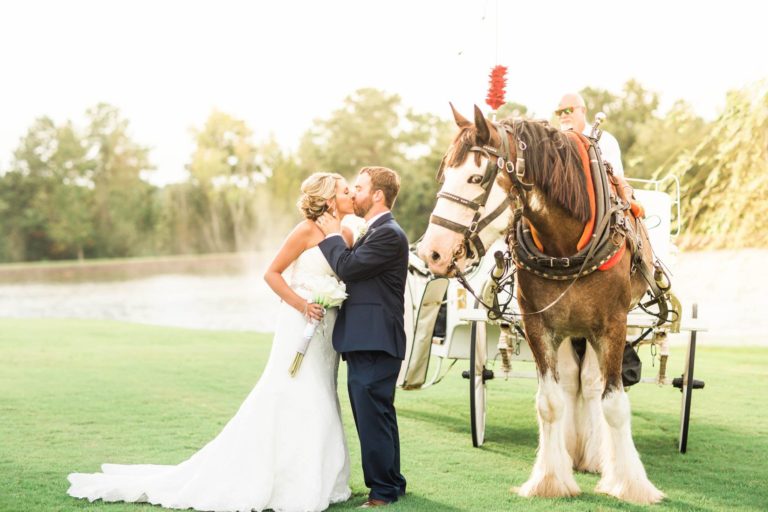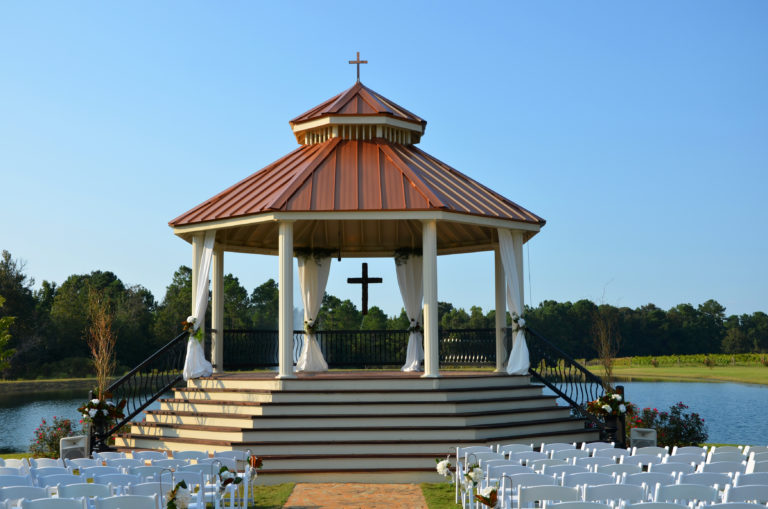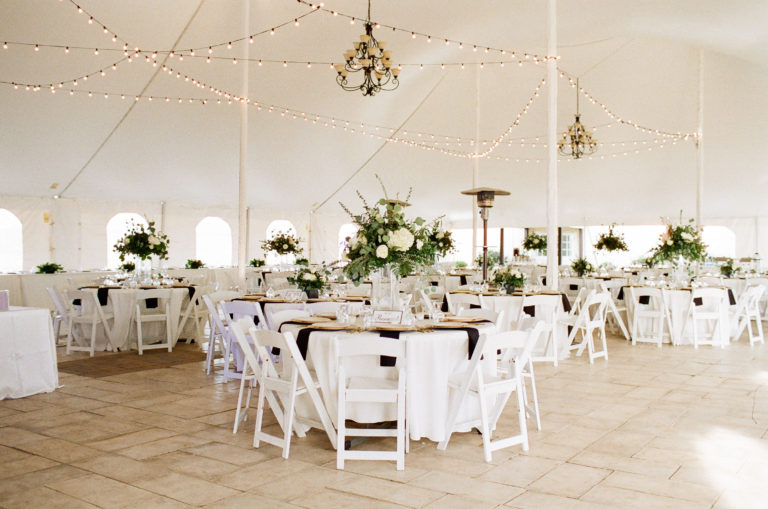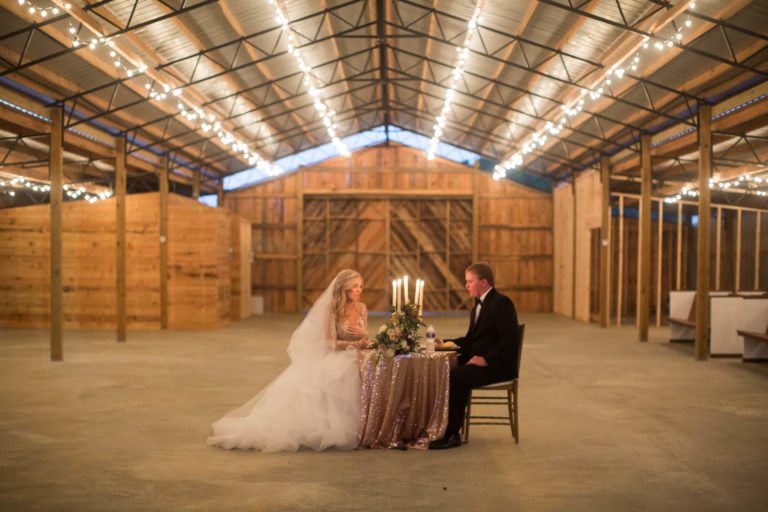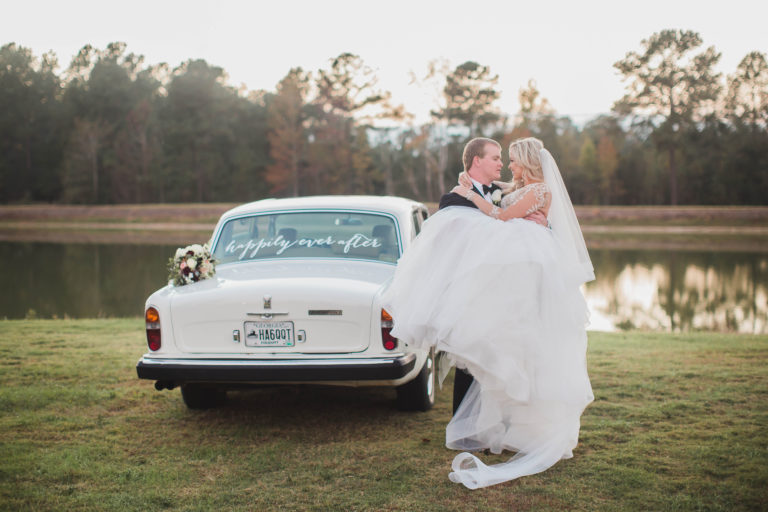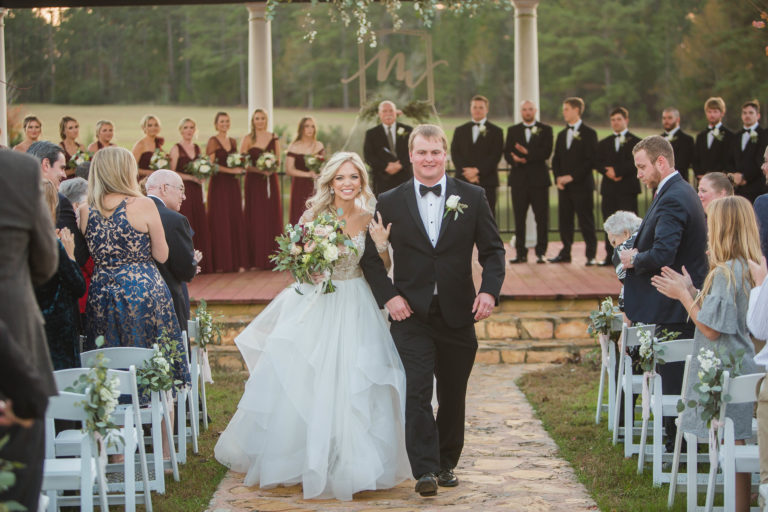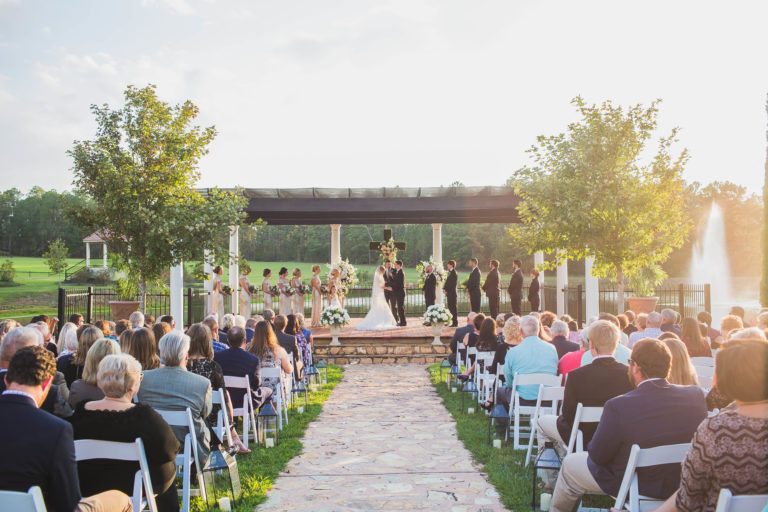 We are excited to announce our 412 year-old oak tree ceremony and reception site under the Vintage Oak with the 3300 sq. ft deck. Reception site is the PackHouse Wine Tasting Room.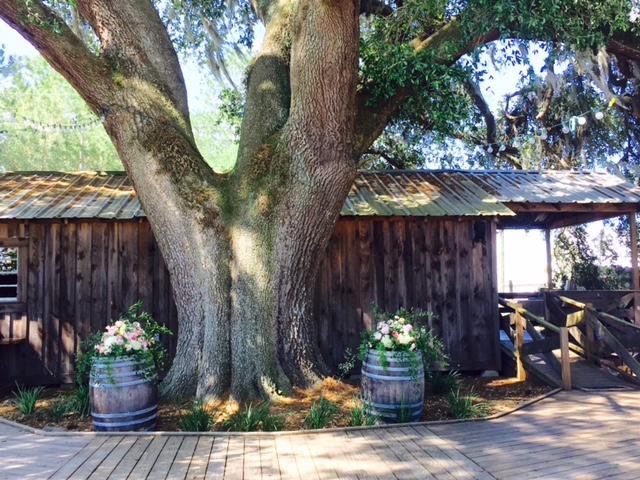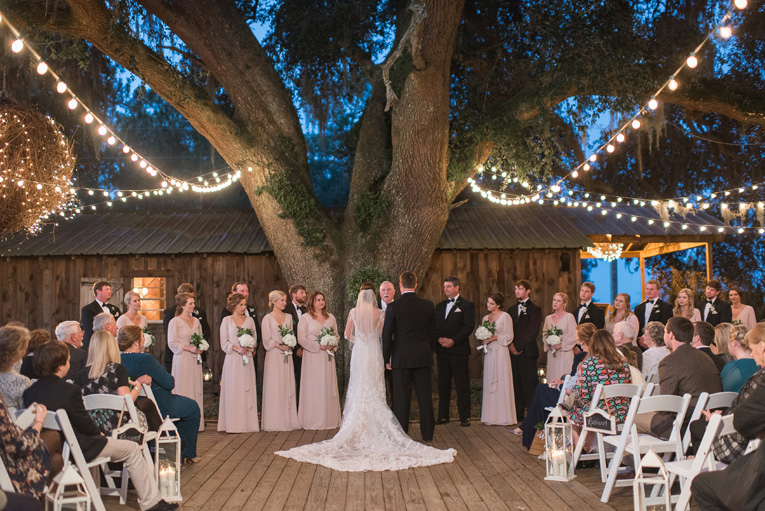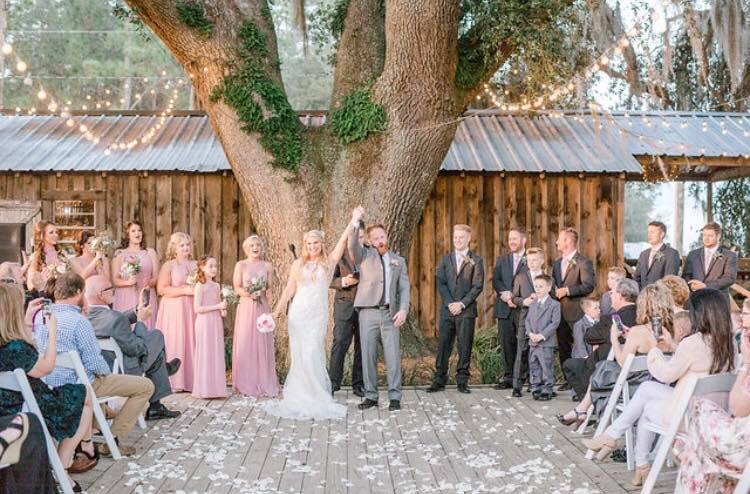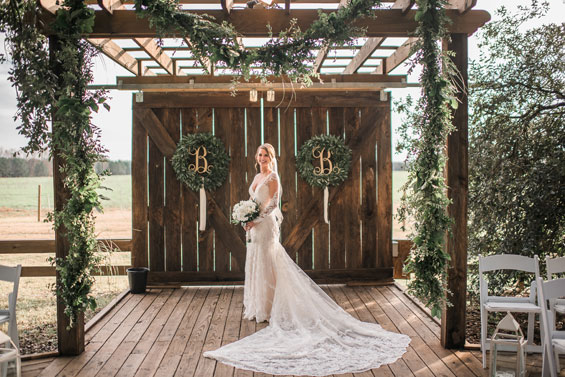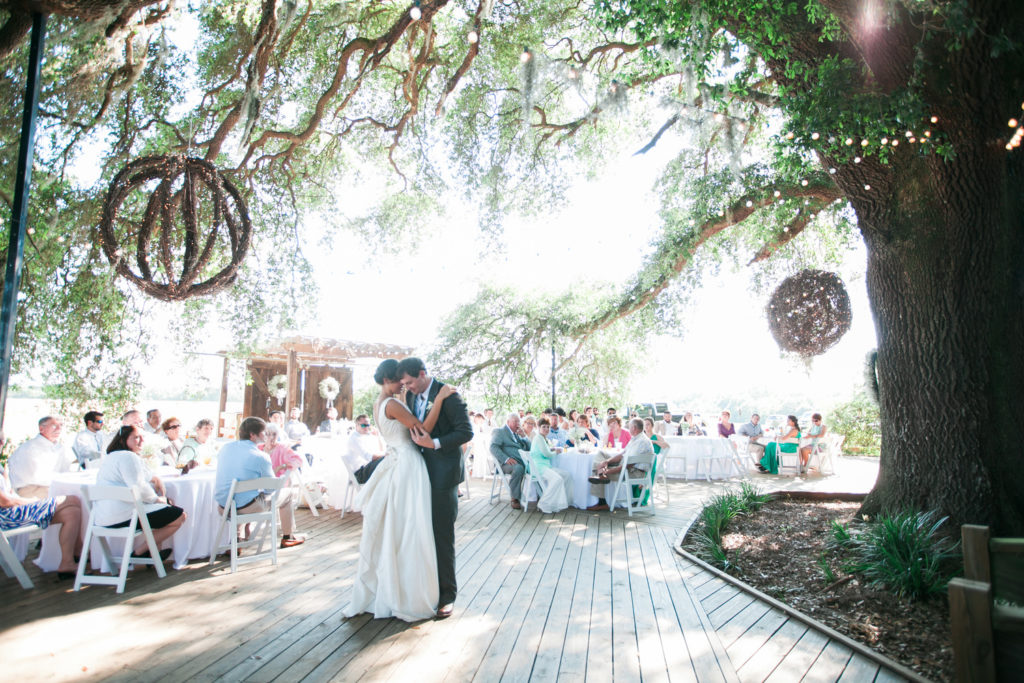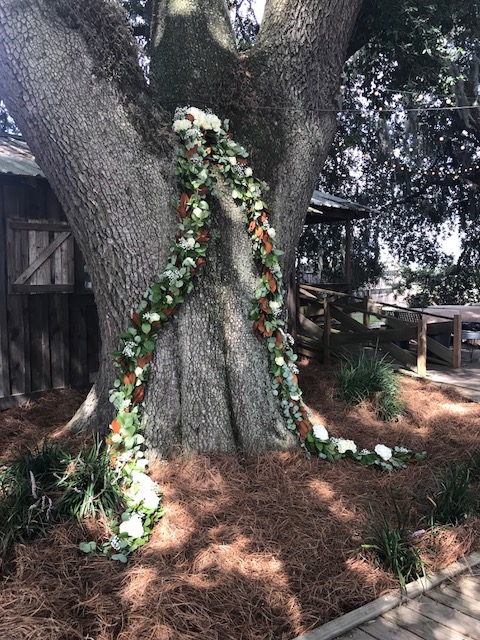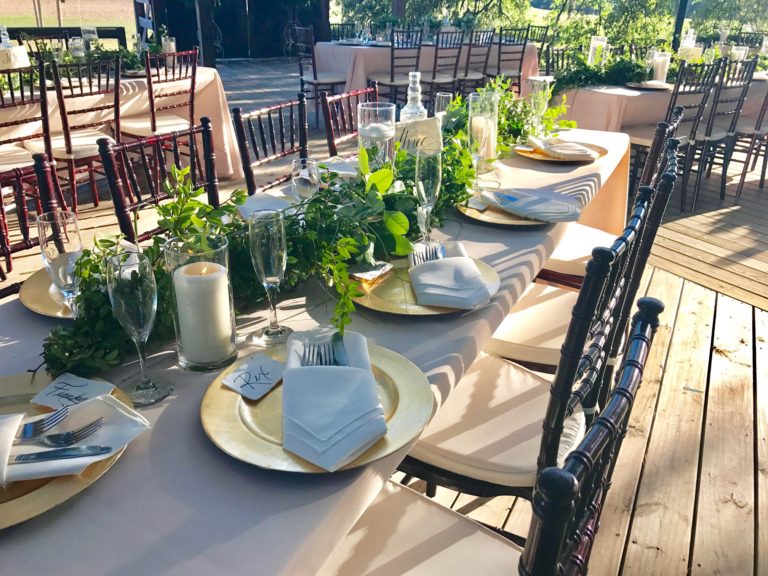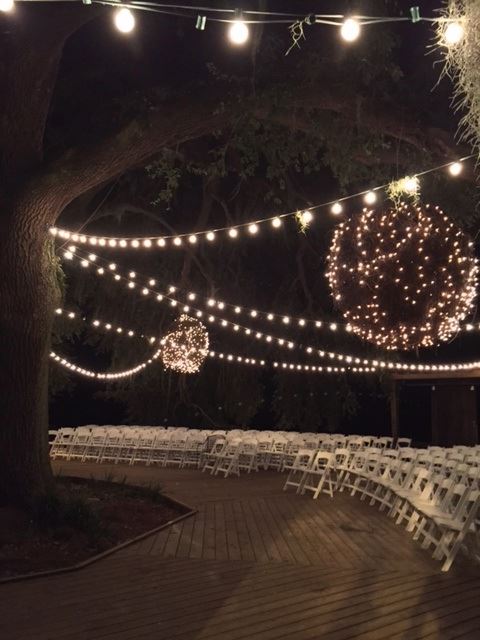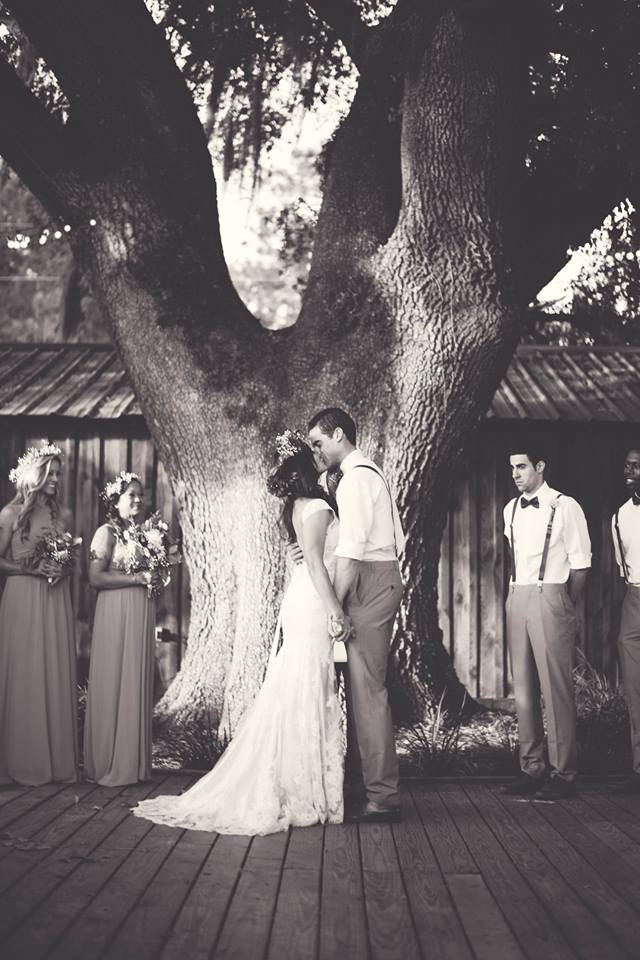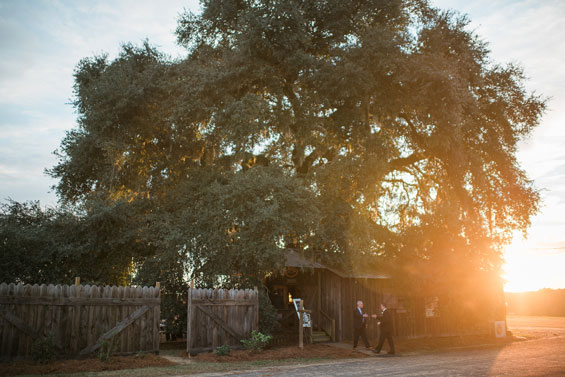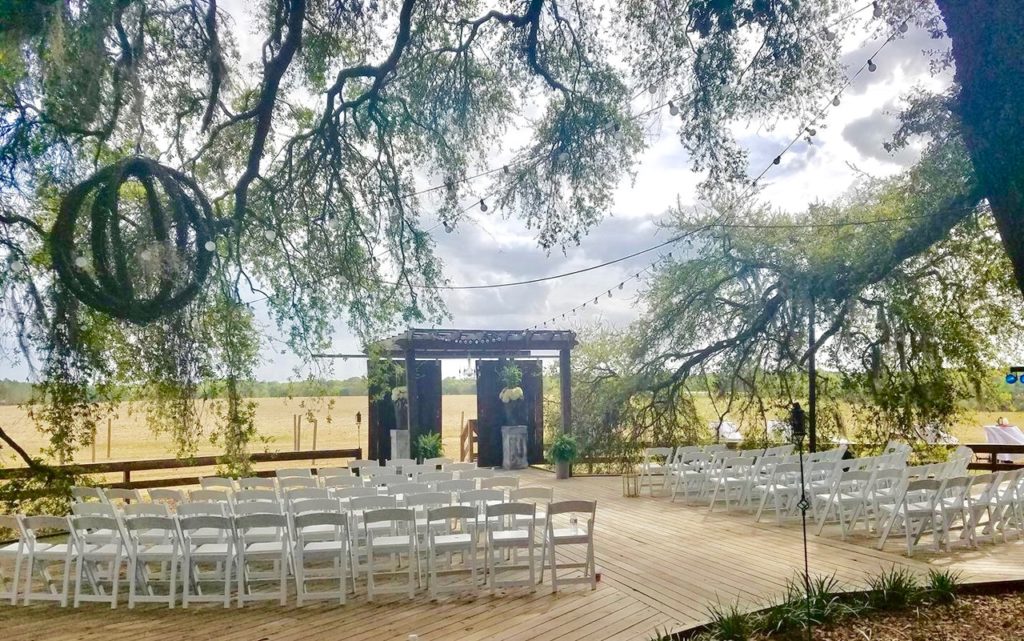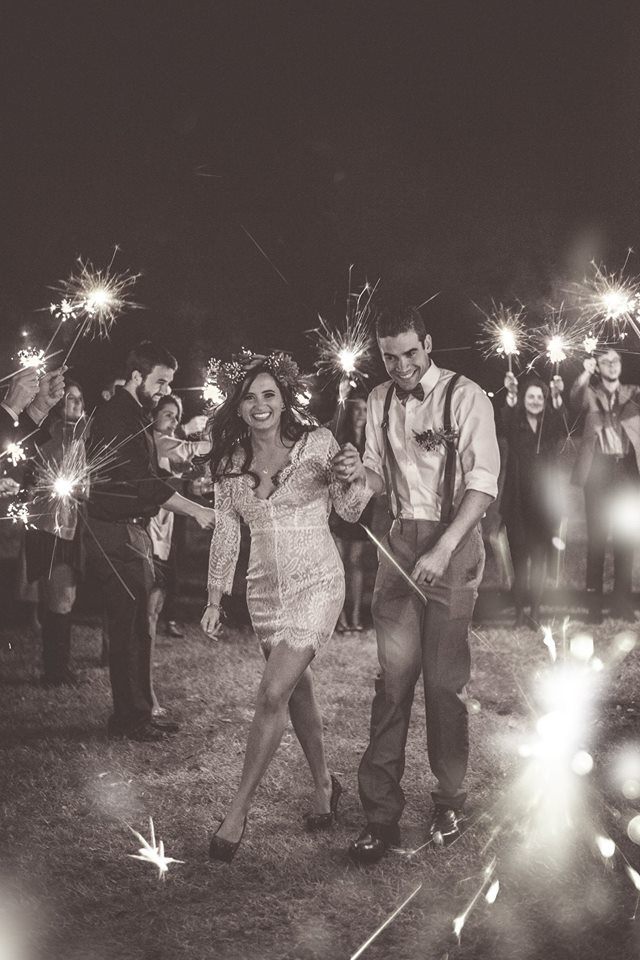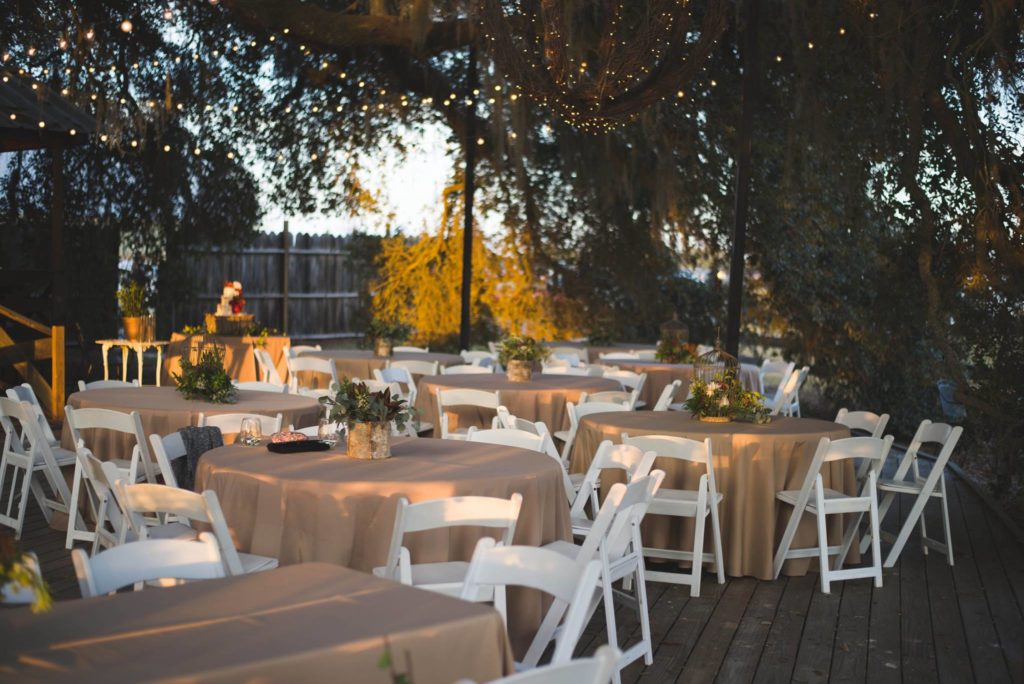 Gin Creek offers many Wedding Packages . Gin Creek has 3 separate venues: RoseMott Vineyards, DeMott Lakeside, and the Vintage Oak. We offer packages for different days of the week. We are committed to making this the best day of your life, and our reputation proves it. You will find the staff of Gin Creek to be the friendliest people on earth!
Emerald
Up to 100 People ONLY
Overnight Stay in 2 Cottages

2 Staff Members for Parking

Set Up, Management & Clean Up Included
Classic
Up to 75 People ONLY
Ceremony Site (w/ white folding chairs)

Reception Site (Galleria)

Accomodations to dress for wedding party
Ceremony Site (w/ white folding chairs)

Two staff members for parking.

Reception site – Galleria (tables and white chairs)

Overnight stay in the (2) Bridal Cabins on the day of your wedding
Sapphire
Up To 150 People
Ceremony—Pergola, Gazebo, or Barn (white folding chairs)

Reception site (tables and chairs)

Lodging… (2) Bridal Cabins for (2) nights

Setup and pickup of Gin Creek's property

Two gin creek Staff members (for parking)

NO Transportation included in package
Ceremony Site (w/ white folding chairs)

Horse-drawn carriage OR Rolls Royce for Bride's Grand Entrance

Reception site- Galleria (tables, white chairs)

Guest Cart Shuttles/Trolley

Wedding Director/Sound Director

Staff for set up and clean up of Gin Creek's property items onlyding Director/Sound Director

6 hour time limit or midnight (whichever comes first) from the ceremony time, over that is $100 per hour
Ceremony Site (w/ white folding chairs)

Horse-drawn carriage OR Rolls Royce for Bride's Grand Entrance

Reception site- Galleria (tables, white chairs)

Guest Cart Shuttles/Trolley

Wedding Director/Sound Director

Rehearsal dinner site with tables and chairs for up to 50 people

Staff for set up and clean up of Gin Creek's property items onlyding Director/Sound Director

6 hour time limit or midnight (whichever comes first) from the ceremony time, over that is $100 per hour
Platinum 1
Up to 300 People
All 100 acres of Gin Creek

Includes: Olive House, Carriage House, Log Cabin, and Lakehouse

Horse-drawn carriage OR Rolls Royce

Ceremony site (white folding chairs)

Reception site- Galleria or 60×120 Tent (tables, white chairs)

Bridesmaid's Luncheon site for up to 30 people (including tables, chairs)

Rehearsal Dinner site for up to 50 People (including tables, chairs)

Guest Cart Shuttles/Trolley (for wedding day only)
Platinum 2
Up to 300 People
All 100 acres of Gin Creek

Includes: Olive House, Carriage House, Log Cabin, and Lakehouse

Horse-drawn carriage OR Rolls Royce

Ceremony site (white folding chairs)

Reception site- Galleria or 60×120 Tent (tables, white chairs)

Bridesmaid's Luncheon site for up to 30 people (including tables, chairs)

Rehearsal Dinner site for up to 50 People (including tables, chairs)

Guest Cart Shuttles/Trolley (for wedding day only)
Wedding Site: $550 weekday, $800.00 weekend (Friday and Saturday)
Dee's Lake House: $230.00 (per night), plus $75 Housekeeping Fee
Presley Log Cabin: $275.00 (per night), plus $75 Housekeeping Fee
Cottages: $138.00 (per night), plus $30
Housekeeping Fee Galleria: $1,000.00 (per day, weekend), $500.00 (Weekday)
Pergola: $550.00 (per event), non ceremony event (includes tables and chairs up to 50
Gazebo: $550.00 (per event), non ceremony event (includes tables and chairs up to 50
Pack House Tasting Room: $850.00 (excluding wedding ceremony and/or reception), up to 50 people. Tables and Chairs included (not tablecloths)
White Resin Folding Chairs: $3.25 (per chair)
60" Round Tables: $11.00 (per table)
48" Round Tables: $11.00 (per table)
6' & 8' banquet tables: $11.00 (per table)
30" round tables: $11.00 (per table)
Tablecloths per cloth: (Standard) $13.00 Samples are available at Gin Creek
Rolls-Royce: $350.00 Bridal Carriage: $550.00 (per carriage)
White Surrey: $150.00 (not horse-drawn)
Limousine Shuttle carts: $300.00 (each per event w/driver)
GOBO Spot: Projector Rental price $150.00 (Perfect for displaying a custom message or monogram)
Outdoor deck heaters: $80.00 (per heater)
Gin Creek Wedding Director: $850.00 (per event)
Gin Creek Sound Director: $250.00 (per event)
Large Cross: $100.00
Pet Fee: $50 pet fee for the first pet and $25 for each additional pet per Cabins and Cottages (Damages extra)
Wedding Site (includes 20 chairs): $600 weekday, $800.00 weekend (Friday and Saturday)
Hank's Cottage: $138.00 (per night), plus $20 Housekeeping Fee
Max's Cottage: $138.00 (per night), plus $20 Housekeeping Fee
Olive House (per night): $550.00 (entire house), $100 (small room), $180 (Master bdrm), $250 (upstairs)
Cottages: $138.00 (per night), plus $20 Housekeeping Fee
Carriage House: $200.00 (per night), plus $50 Housekeeping Fee
Pergola: $550.00 (per event)
Gazebo: $550.00 (per event)
Pack House Tasting Room: $850.00 (includes tables and chairs for up to 50 people (4-hour time limit)
White Resin Folding Chairs: $3.25 (per chair)
60" Round Tables: $11.00 (per table)
48" Round Tables: $11.00 (per table)
6' & 8' banquet tables: $11.00 (per table)
30" round tables: $11.00 (per table)
30" tall round drink tables: $11.00 (per table)
Tablecloths (Standard): $13.00 (per cloth)
Rolls-Royce: $350.00
Bridal Carriage: $550.00 (per carriage)
White Surrey: $350.00 (not horse-drawn)
Limousine Shuttle carts: $300.00 (each per event
w/driver)
GOBO Spot: Projector Rental price $150.00 (Perfect for displaying a custom message or monogram)
Outdoor deck heaters: $80.00 (per heater)
Gin Creek Wedding Director: $850.00 (per event)
Gin Creek Sound Director: $250.00 (per event)
Large Cross: $100.00
Wine Barrels: $15.00
Entrance Doors: $100.00
Church Pews: $35.00 (each)
Door Slabs: $10.00
Metal Arbor: $50.00