We Have All Of The Perfect Accomodations For Your Special Day
The Presley Log Cabin is our "signature" at Gin Creek. Built in 1836, this original structure has seen 178 years of special times. The 1500 square foot cabin is a two-story structure consisting of two bedrooms with loft and two baths. The open-air den looks skyward following the massive lines of the stone fireplace. A fourth-generation black iron bed centers the master bedroom with fully exposed logs in the main quarters, which creates an awe-inspiring feeling. The vaulted juniper walls of the bath create the smell of this authentic cedar room. The original staircase takes you up to the loft bedroom overlooking the den. To relax, the Presley Log Cabin has a large, digitally lighted "hot tub" to soothe you at the end of a great day. Pet Friendly, $50 fee per pet, Presley Cabin sleeps 8 people.
Rate: $275 per night (Plus $50 housekeeping fee)
Correction: Presley Log Cabin now has 4 queen beds and 1 twin pull out.
Our first and most popular structure, has been our mainstay for years. Sitting at the corner of DeMott Lake, Dee's Lake House overlooks the water with three bedrooms and two baths. A pool table provides entertainment for the "pro" or for those who just want to have fun. Across the front of the lake house is a large screened porch that flows to an open porch for entertaining or sheer relaxation. An open deck is off the back for entertaining, as well. The large Master Bedroom consists of juniper walls and smells heavenly. A quaint bridge leads you from the lake house to our beach area. Dee's Lake House hosts a variety of events from birthday parties to rehearsal dinners. Dee's Lake House is a versatile choice, and accommodates the Groom and Groomsmen on his wedding day.
Rate: $230.00 per night (Plus $50.00 housekeeping fee)
Correction: Dee's Lakehouse now has 1 queen, 6 twin beds.
Pet Friendly…$50.00 fee per pet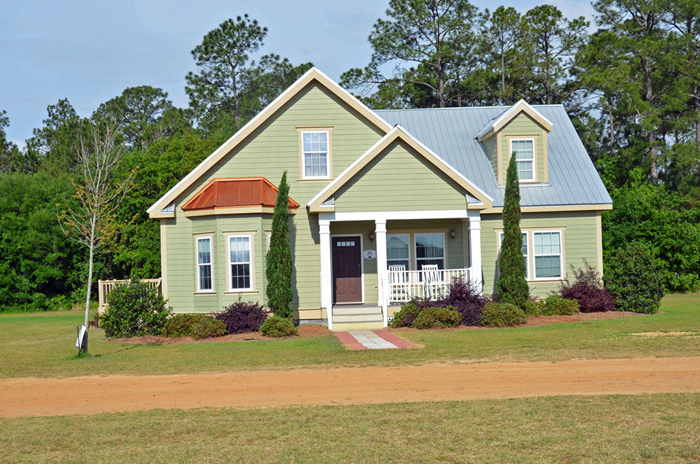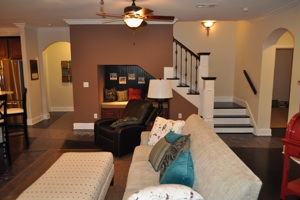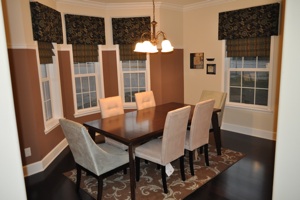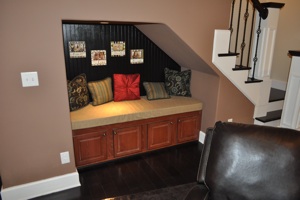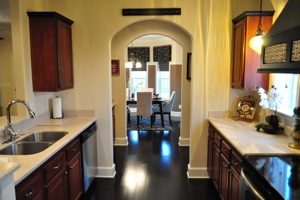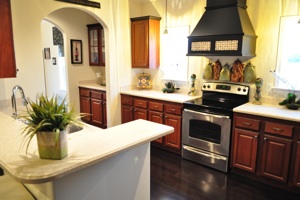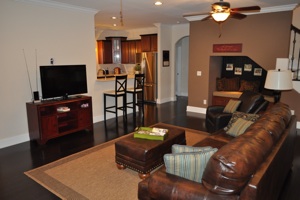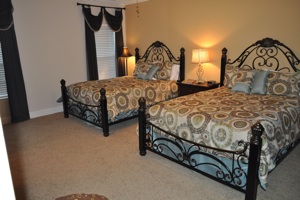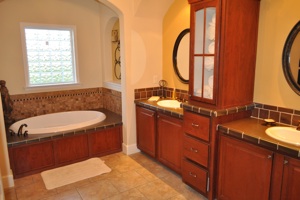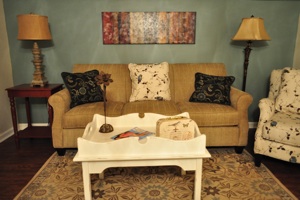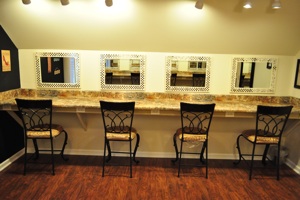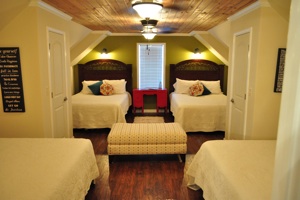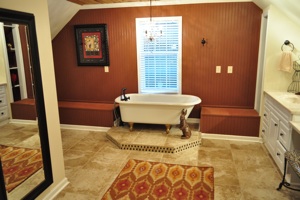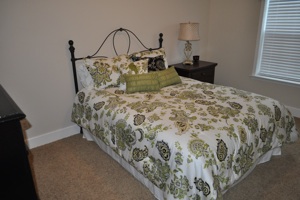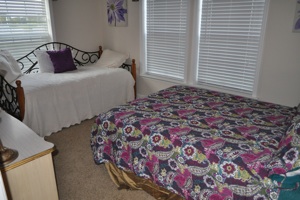 The Olive House is a 3200 sq. ft., two-story home. The first floor features a large den, kitchen, dining room, laundry room, large master bedroom with a bathroom, and also two additional bedrooms that share a bathroom.
The second floor has one very large bedroom with four queen size beds, a bathroom, and a large dressing room with eight mirrored stations for the bridesmaids.
The Carriage House is the original home place of our family and was built over 100 years ago and just about every person in our DeMott family has lived there at one time or another. The house was recently remodeled and has three bedrooms, two baths, kitchen, den, and dining area. The house is available in most Vineyard wedding packages for the groom and groomsmen. Although the Carriage House is not located on the Gin Creek property, it is very near.
Rate: $200.00 per night (Plus $50.00 housekeeping fee)
Located in the middle of Gin Creek, the eight historical row cottages are two bedroom/one bath, with a kitchenette or full kitchen. Each comes with an open front porch & screened back porch, with a walking deck out to DeMott Lake. Fully furnished interiors, with each cottage exquisitely decorated differently. Pet Friendly…$50.00 fee per pet.
Redbud Cottage — Two Queens, Twin/Twin, kitchenette (6 persons max)
Honeysuckle Cottage — Queen, Double/Twin, kitchenette (5 persons max)
Serenity Cottage — King, Twin/Double, kitchenette (5 persons max)
Mossy Oak — Queen, Two Doubles, kitchenette (6 persons max)
Jasmine — King, Two Doubles, kitchenette (6 persons max)
Pineneedle— 2 full beds, full kitchen
 Studio cottages with a full kitchen, one bath and located next to Vineyard tent.
Caroline's Cottage—- King bed, 1 bath, full kitchen
Hank's Cottage —- Queen/Daybed and Full, full kitchen (5 persons max)
Max's Cottage **** Two Queen Beds, full kitchen (4 persons max)
Rate: $138.00 nightly + tax (plus $30.00 housekeeping fee) If you choose to stay at least three nights with us, you will receive a 15% discount for each night of your stay.